Bacardi Launches 2d Limited-Edition Cask Finish Rum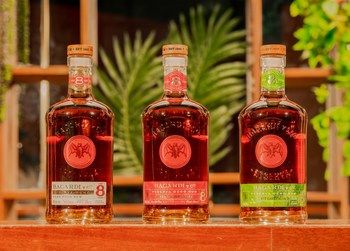 Bacardi Reserva Ocho Rye Cask Finish – the second installment in the Bacardi limited-edition cask finish series rolls out nationwide this month as part of the brand's five-year collection – after last year's inaugural and sell-out release of Bacardi Reserva Ocho Sherry Cask Finish. An exclusive Cask Finish Series variant will debut every August through 2025, each year featuring a unique flavor profile from its intricate barrel aging and finishing processes.
"In 2018, Bacardi set out to introduce a true, robust portfolio of premium rum offerings spanning four to over 12 years in age. As the leader in the rum category, we're always challenging ourselves to innovate, introducing new and unique expressions to bring more people into the sippable rum universe." said Lisa Pfenning, Vice President, BacardiÍ for North America.
"Rum is in a unique position because it has a natural warmth that invites conviviality and connection, unlike other dark spirits on the market. Whether you're an experienced drinker or someone new to rum and dark spirits in general, you can easily celebrate that special occasion with Bacardi Reserva Ocho Rye Cask."
The new Bacardi Reserva Ocho Rye Cask Finish will be available in 750mL bottles with a 45% ABV for a suggested retail price of $32.99, available online and in stores nationwide, later this month.