Balcones Distilling Marks 15th Year, Launches New Texas Single Malt: Cataleja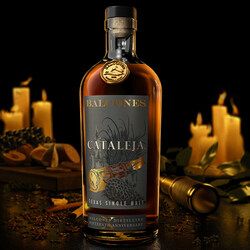 "Cataleja Texas Single Malt is one of the most complex and unique whiskies we've made," said Jared Himstedt, head distiller at Balcones Distilling.
A first taste will be offered Saturday (10/28) at Balcones Distillery's 15th Anniversary celebration in Waco, Texas. It will then be available in limited release in select retailers in Texas, California, Illinois, Colorado, New York and Florida, and can be pre-ordered on ReserveBar.com.
Himstedt called Cataleja "a testament to the Balcones commitment to exploration, experimentation, and an unyielding dedication to our craft. We each had our own vision of Cataleja, what it might become, and its individual character. Even now that it's here, it's more distinctive than we imagined. This process showcases our continued commitment to engaging with our whisky in a meaningful way to create unique, expressive flavors."
Made with 100% Golden Promise Malted Barley, this single malt began its maturation journey in barrels previously used to age Kentucky bourbon, and after three years of the Texas climate's concentrating effects, was transferred into decommissioned Sherry Solera casks that were meticulously hand-selected from various Spanish bodegas (wine cellars): Moscatel, Amontillado Dulce, Oloroso and Palo Cortado.
Because the first fill showcased the wonderfully high impact of the 80+ year old casks, the whisky was transferred back into neutral barrels and then followed with two additional rounds of refill single malts through the decommissioned casks, as they continued to provide sherry impact alongside the delicate malt character.