Captain Morgan Erects Statues Honoring NFL Fans of the Year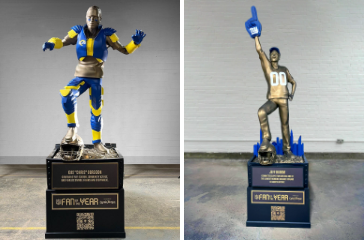 For the first time, NFL superfans are being immortalized by Captain Morgan Spiced Rum with larger-than-life statues, celebrating some of the most passionate NFL Fan of the Year nominees. Each fan's unique personality and original spice in the custom design of the one-of-a-kind statues.
Throughout December, Captain Morgan will travel across the country unveiling its NFL Fan of the Year statues for a special group of nominees during a game day celebration they'll never forget. Taking place ahead of kickoff, the special tailgate celebration will include former NFL legends, like Super Bowl XLVI champion Victor Cruz, and thousands of loyal fans 21+ ready to cheer on their NFL Fan of the Year nominee with delicious Captain Morgan cocktails and game day giveaways.
In partnership with Sports Illustrated, Captain Morgan will help further cement the celebrity status of this year's NFL Fan of the Year nominees when they grace a special-edition Sports Illustrated cover peel unit on the front of the famous sports magazine, which will arrive in subscriber mailboxes on Jan. 31. Consumers can also visit captainmorgan-si.com/fanoftheyear to see individual digital covers celebrating all 32 nominees and learn more about how they spice up the game through their unique fandom.
And for the first time, fans can visit nfl.com/fanoftheyear to vote for the nominee they think is most deserving of the Ultimate NFL Fan of the Year title. Voting ends Wednesday, Feb. 8.
The culmination of the NFL Fan of the Year celebration will take place at Super Bowl LVII in Arizona. The naming of The Ultimate NFL Fan of the Year will occur during the live broadcast of the NFL Honors on Feb. 9 at 8 PM ET. Friends, family and future NFL Fans of the Year can tune in from home on NFL Network and NBC.