For Only 2d Time, Michter's to Release US*1 Toasted Barrel Sour Mash Whiskey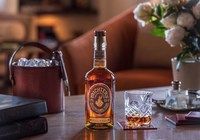 In September 2022, Michter's Distillery will release its US*1 Toasted Barrel Sour Mash Whiskey for sale to U.S. and export markets. This whiskey was released once before in 2019.  SRP: $100.
"At Michter's we're proud of the great work done by our production team to create our Toasted program," commented Michter's President Joseph J. Magliocco. "We are always trying new things as we endeavor to make highest quality whiskeys, and with the 2014 release of our US*1 Toasted Barrel Bourbon we became the first company to offer a toasted barrel American whiskey. It's great to see how this new category has taken off over the past 8 years."
When Michter's US*1 Sour Mash, the base of this Toasted release, was selected by The Whisky Exchange as "Whisky of the Year" for 2019, it marked the first time that any whiskey from the United States had ever achieved this honor. Michter's US*1 Toasted Barrel Sour Mash Whiskey is 86 proof and will sell in the U.S. for a suggested retail price of $100 per 750ml bottle.
To make this special Toasted release, Master Distiller Dan McKee transferred into fully matured barrels of its US*1 Sour Mash Whiskey into specially toasted barrels for additional aging. The precise toast profile of the second barrel was artfully selected by Michter's Master of Maturation Andrea Wilson.