Miller Lite, Coors Light Football Plans Include Big Sponsorships, New Ads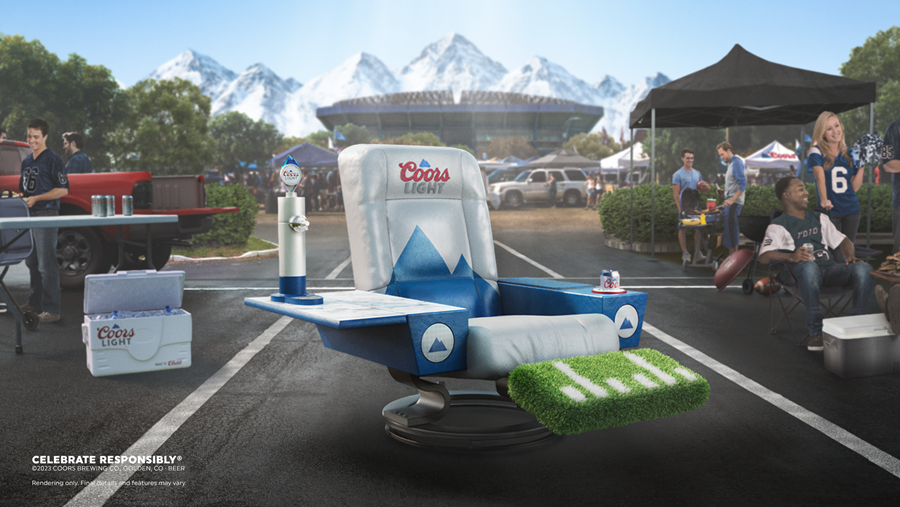 With Coors Light and Miller Lite both coming off a historic sales quarter, with Coors Light's sales volume up 25% and Miller Lite's up 20% for the 13 weeks that ended Aug. 20, according to Circana multi-outlet and convenience store data, they aim to keep the momentum going with programs the celebrate the excitement around every football game day.
With Miller Lite representing 16 NFL teams and Coors Light's dozens of alliances with top college football schools, the brands aim to have a strong presence any time fans are thinking about football, says James Nanney, senior marketing manager for Miller Lite.
"Game day is every day, not just Saturday or Sunday," he says. "No matter the football occasion, no matter the location, our brands work really well together to own every game day."
Miller Lite's partnership with ESPN, where it's the lead sponsor of the network's fantasy football app, is growing in 2023.
Not only will Miller Lite show up prominently on the no. 1 fantasy football app, it will also feature ESPN's fantasy football badge on secondary packaging of its pints. This is in addition to packaging and display tools celebrating its 16 alliance teams across the NFL.
"While we have alliances in 16 markets, now we're able to cover the entire country with football-themed packaging that's going to resonate with fans," Nanney says.
It's part of a broader effort by Miller Lite to own fantasy football. More than 11 million fans played on ESPN's app alone last season, according to the network. And it provides an ongoing opportunity to connect with fans at home and in the on-premise, Nanney says.
"Fans are engaged in fantasy football seven days a week. Whether they're setting a lineup, checking stats or ribbing their buddies over text, we want them to have a Miller Lite nearby," he says.
The brand connected with bars across the country to host fantasy football drafts that can translate to fans coming back all season. And Miller Lite is giving fantasy players a chance to win daily cash prizes to cover their tabs and other football swag throughout the season. Players can also enter for a chance to win the grand prize of having their next fantasy football draft at ESPN's headquarters in Bristol, Conn.
Miller Lite is renewing its partnership with DraftKings, as well, while expanding its advertising presence across major fantasy football podcasts. Coors Light is kicking off the season strong, extending its sponsorship of ESPN's "College Gameday" to its secondary packaging of 24- and 30-packs for the first time.
"Coors Light is all about celebrating game day: the excitement, the chants, the bands – there's nothing like it," Flicher says.  Starting Sept. 2, fans can also purchase the |Chill Throne," a luxurious reclining chair that provides just about everything a fan needs except a grill.
The Chill Throne includes a cup holder to chill your Coors Light, a tap handle to turn a Coors Light can into a draught beer, a back massager, Bluetooth speakers, an astroturf footrest and more.
Both brands, of course, are launching new spots. Miller Lite's new 15-second spot launches this week ahead of the NFL's first week of regular-season play.  Meanwhile, Coors Light's new ad debuts Sept. 7, and celebrates the special part tailgating plays in the college football experience, branding Coors Light as "the official beer of not going to the game.".