For $4,051, You Can Sleep Beneath 5000 Pink Petals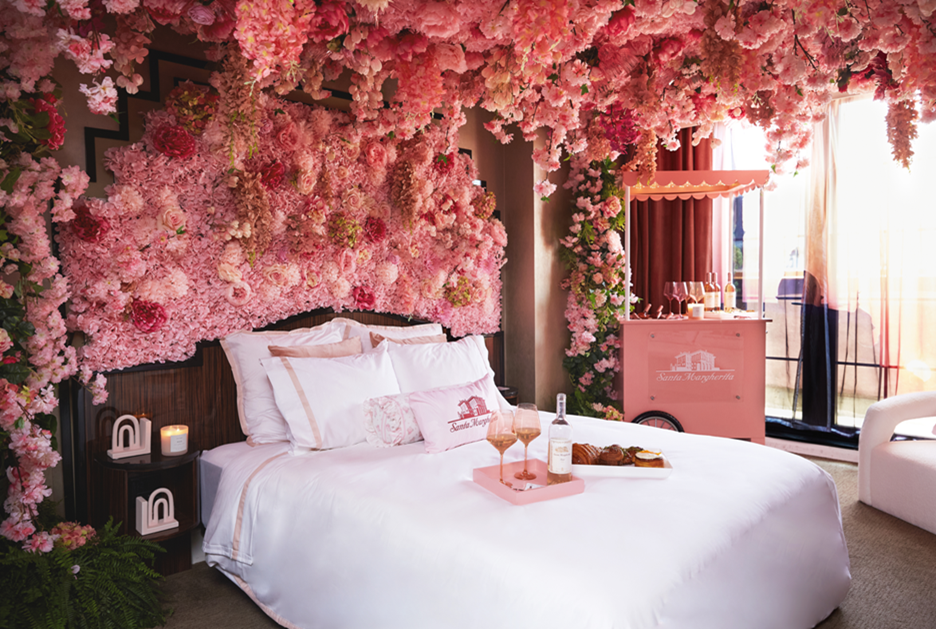 It's a promotion for Santa Margherita,  which is launching the "Santa Margher-suita," an Italian rosé themed hotel suite with more than 50,000 pink petals to sleep under and a Rosé All Day Butler, located at NYC's Walker Hotel Greenwich Village.
The suite was conceived so those who book it could feel as if they are on an Italian summer vacation without ever having to book a flight overseas. Kick back with a Rosé All Day Butler, 24/7 on-call content concierge, and even take home any piece of Italian art on the wall. The full package of the Santa Margher-suita includes the following:
Roseì-All-Day Butler: A dedicated butler ready to serve chilled Santa Margherita Rosé in Estelle Colored Glassware conveniently available via an in-room Rosé cart at your command.
· Serene Sunset Views: Drift off to sleep with gorgeous scenic window treatments depicting a Venetian sunset inspired by the region that gave birth to Santa Margherita's iconic Rosé.
· 24/7 On-Call Content Concierge: Capture picture-perfect moments with your TikTok tagalong, ensuring that every Rosé-inspired memory comes to life.
· Sleep Under 50,000 Pink Petals: The suite's ceiling is exploding with a breathtaking installation of 50,000 pink petals and clusters of pink wine glasses allowing for an immersive sensory experience.
· Picture-Perfect Italian Artwork: Take an Italian souvenir home with you too! Famous Italian scenes are featured in the curated artwork that adorns the walls of the suite, and what's more – guests are invited to take a piece off the wall after their stay as a souvenir.
· Private Italian Dinner: Delight in a private six-course Italian dinner from the hotel's restaurant, Society Cafe, meticulously paired with Santa Margherita Rosé and other varietals, a feast for the senses.
The priced of $4,051 represents the exact miles between New York and Italy.  The exclusive experience can be booked now for July 24-July 31.